Titanium Fasteners
Titanium Fastener Manufacturer, ASTM F468 Ti Fasteners Exporter, Titanium Alloy Fasteners Supplier, Titanium Industrial Fasteners Dealer in Mumbai, Titanium Nuts, Titanium Alloy Socket Head Cap Screw Manufacturer in India.
Boltport Fasteners is a prominent firm that manufactures Titanium Fasteners, where we offer this alloy in different types such as Titanium Bolts, Titanium Screws, Titanium Stud Bolt, Titanium Set Screws, Titanium Machine Screws, Titanium Threaded Studs, Titanium Threaded Rod, Titanium Nuts, Titanium Socket Head Cap Screws, and more. We are engaged in manufacturing an ample range of Fasteners, where we use modernized technology and machinery to manage the well-timed production and authenticate the quality of the products. Our organization holds immense expertise in trading, retailing, wholesaling and supplying a wide range of Titanium Alloy Fasteners, which is procured from the reliable experts of the market in compliance with industry norms. We are engaged in offering quality range of Titanium which are durable and corrosion free and are appreciated by customer for their sturdiness, precise dimensions and high tensile strength. Titanium Grade 2 Fasteners is resistant to seawater and steam at high temperatures, along with excellent resistance to rapidly flowing brackish water or seawater.
Titanium Fasteners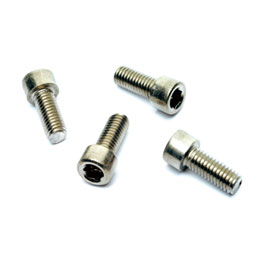 Titanium Bolts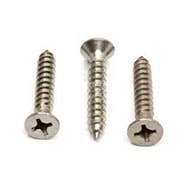 Titanium Screws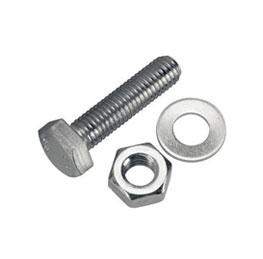 Titanium Fasteners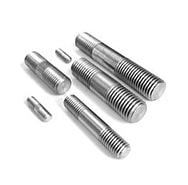 Titanium Studs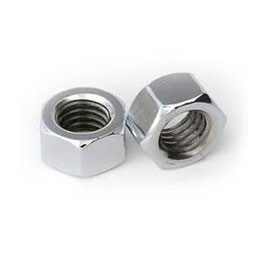 Titanium Nuts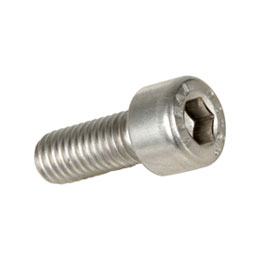 Ti Socket Cap Screw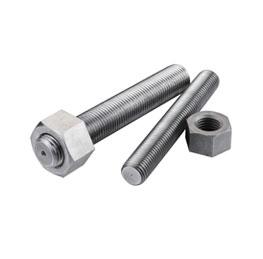 Ti Stud Bolt
Titanium Set Screw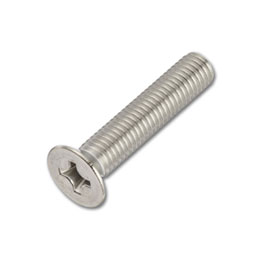 Titanium Machine Screw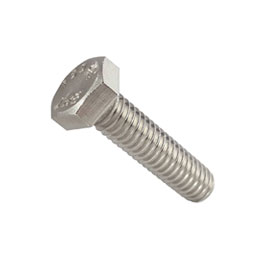 Titanium Machine Bolt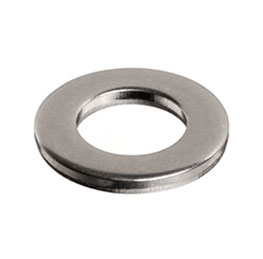 Titanium Flat Washer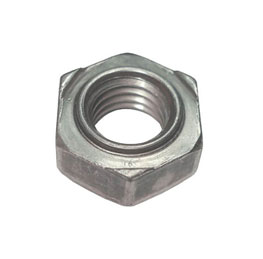 Titanium Weld Nuts
Titanium Fasteners Specifications
| | | |
| --- | --- | --- |
| Specifications | : | ASTM F467 / F468, ASME SF467 / SF468 |
| Standard | : | DIN, ASTM, BS and all International Standards |
| Length | : | 3 mm to 200 mm |
| Nuts Size | : | M3 - M56 | 3/6" to 2" | Custom Sizes |
| Bolt / Screw Size | : | M3 - M56 | 3/6" to 2" | Custom Sizes |
| Machine Screws Size | : | M1.6 - M12 |
| Washers Size | : | M3 - M56 | 3/6" to 2" | Custom Sizes |
| Grades | : | Grade 2, Grade 5 etc. |
| Type | : | Nuts, Bolts, Screws, Sockets, Studs, Screw, Hex Set Screw, Socket Screw, Cap Screw, Pan Head Screw, Machine Screw, Socket Head Cap Screw, Allen Cap screw, Wing Screw, Washers, Spring Washers, Studs, Anchors, Marine Anchors, Nut, Hexagon Nut, Hex Nut, Hex Coupling Nut, Hex Domed Cap Nuts, Square Nut, Stud Bolts, Hex Head Bolts, Socket Hexagon Head Screw Anchor Bolt, U- Bolts, J Bolts, Mushroom Head Square Neck Bolts, T-Head Bolts, Wing Screw, Eye Bolt, Foundation Bolts, Structural Bolts. |
Titanium Bolts, ASTM F468 Ti Screws Manufacturer, Titanium Alloy Studs, Titanium Stud Bolts Dealer in Mumbai, Titanium Alloy Nuts Exporter, Titanium Socket Head Cap Screw Manufacturer in Mumbai.
In order to fulfill the variegated demands of large clientele, we bring forth a quality assortment of fasteners in various technical specifications, which can be easily availed by clients in diversified shapes and dimensions according to their needs. As we are considered as one of the renowned names, our company is engaged in manufacturing, supplying and exporting a wide range of these Titanium Grade 5 Fasteners, where we believe in providing good quality material at the most effective rates.
Titanium Fasteners Application Industry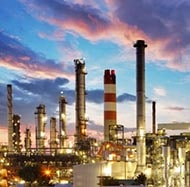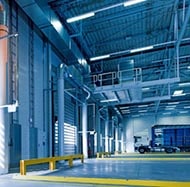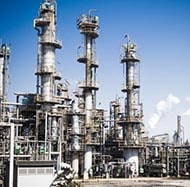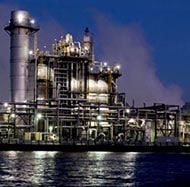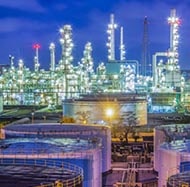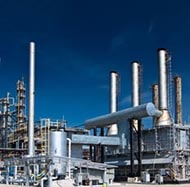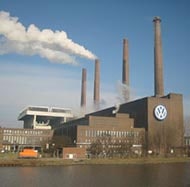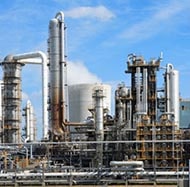 People Also Searched For
A Wide Range Of the Best Quality Titanium fasteners manufacturers in india, Titanium fasteners manufacturers in gujarat, Titanium fasteners manufacturers in mumbai, fasteners, Titanium nuts, Ti washers, Titanium allen cap screw, Ti machine screws, Ti hexagon nuts stockholder, Ti u bolts Dealers, Titanium spring washers distributors, Titanium foundation bolts, Ti J bolts suppliers, Titanium fasteners manufacturing process, Titanium fasteners manufacturers in ludhiana, Ti nut bolt manufacturer in delhi, Ti nut bolt manufacturer in mumbai, Titanium bolts & nuts manufacturers.
Titanium Fasteners
ASTM F468 Titanium Fastener
Titanium Hex Coupling Nuts
Titanium Socket Head Cap Screw Exporter
Titanium Set Screw in Mumbai
Titanium Machine Bolt
Titanium Machine Screws Supplier
ASTM F467 Steel Fastener
ASTM F467 Steel Industrial Fastener
Titanium Flat Washers
Titanium Alloy Threaded rod
Ti Alloy Fasteners
ASTM F468 Titanium Bolts Stockist
Titanium Alloy Screws
Titanium Studs Manufacturer
Titanium Heavy Hex Nuts Hex Nuts
Ti Fastener
Ti Fasteners
Ti Panel Nut Dealer in India
Ti Washer Stockholder in Mumbai
Ti Machine Bolt
Ti Set Screw Supplier
Ti Alloy Structural Bolts
Ti Spring Washers
Ti Marine Anchors Stockist
Ti Alloy U Bolts
Ti Coupling Nuts Exporter
Ti Alloy Screws
Ti Alloy Studs
Ti Heavy Hex Nuts Exporter In India
Ti Machine Screws Manufacturer In Mumbai
Ti Hex Domed Cap Nuts
We are Experts in Exporting Ti Fasteners worldwide
We are Exporter of Ti Fasteners in Worldwide Such as France, Indonesia, United Kingdom, Chile, Puerto Rico, Tibet, Gabon, Peru, Netherlands, Poland, South Africa, Hong Kong, Germany, Trinidad & Tobago,Tunisia, Ukraine, Russia, New Zealand, Ghana, Bhutan, Mexico, Turkey, Bahrain, Jordan, Austria, Philippines, Vietnam, Ireland, Greece, Qatar, Romania, Australia, Malaysia, Nigeria, Zimbabwe, Ecuador, Nepal, Colombia, Mongolia, Brazil, Lebanon, South Korea, Czech Republic, Switzerland, Serbia, Italy, United Arab Emirates, Libya, Kuwait, India, Taiwan, Belarus, Costa Rica, Morocco, Belgium, Chile, Bangladesh, Algeria, Poland, Denmark, Pakistan, Afghanistan, Finland, Croatia, Iran, Sweden, Iraq, Spain, Lithuania, Bolivia, Mexico, Egypt, United States, Bulgaria, Venezuela, Thailand, Portugal, Slovakia, Norway, Kenya, Singapore, Macau, Azerbaijan, Sri Lanka, Canada, Nigeria, Yemen, Israel, Argentina, Angola, Oman, Hungary, Kazakhstan, Iran, China, Japan, Gambia, Saudi Arabia, Namibia, Estonia.
We are Supplier of Titanium Fastener in India
We are Exporter of Titanium Fastener in India Such as Lahore, Karachi, Jakarta, Port-of-Spain, Dubai, Ludhiana, Ho Chi Minh City, Busan, Istanbul, Kuwait City, Hong Kong, Jaipur, Ulsan, Cairo, Aberdeen, Petaling Jaya, Mumbai, Visakhapatnam, Jeddah, Kuala Lumpur, Chennai, Chandigarh, Mexico City, Granada, Madrid, Pimpri-Chinchwad, Gurgaon, Thane, La Victoria, Doha, Ahvaz, Hanoi, Nashik, Colombo, Melbourne, Baroda, Milan, Montreal, Hyderabad, Howrah, Kanpur, Brisbane, Jamshedpur, New York, Lagos, Navi Mumbai, Vung Tau, New Delhi, Muscat, Rio de Janeiro, Surat, Haryana, Nagpur, Indore, Los Angeles, Tehran, Al Khobar, Edmonton, Toronto, Faridabad, Caracas, Singapore, Rajkot, Ernakulam, Moscow, Seoul, Al Jubail, Santiago, Kolkata, Vadodara, Ahmedabad, Algiers, Ranchi, Riyadh, Atyrau, Bengaluru, Sharjah, Chiyoda, Ankara, Abu Dhabi, London, Dallas, Bhopal, Pune, Gimhae-si, Sydney, Secunderabad, Bangkok, Perth, Noida, Calgary, Manama, Bogota, Thiruvananthapuram, Courbevoie, Coimbatore, Geoje-si, Dammam, Houston.